Ursula Le Guin's viral quote from her speech at the 2014 National Book Awards has become the mantra for the writing group I belong to:
We will need writers who can remember freedom.
For many Americans, last Wednesday morning felt like the end of freedom. I know it felt that way for me. I tried to go about my daily routine. I took the kids to school, checked in with my clients, put the dishes away, brushed my teeth, but I did it all with a sense that there had been a fundamental shift in what it meant to be an American—that daily life was now just a thin veneer covering over a great rift valley. I cried a lot. When I finally sat down at my computer to work, I found myself on Facebook because that is where my friends were. We were all there compulsively reading and sharing every article we could find that might offer a way to make sense of Trump's victory. And we kept asking one another the same question: What do we do now? In the days that followed, as the tears subsided and we turned toward collective action—rallies, protests, petitions, donations to progressive organizations—I kept going back to Le Guin's quote and the advice my writing group leader gave the group the morning after the election:
We have to write through this.
Because there is no other way. Writing helps us make sense of a traumatic world. I began by reading the words of others. Then I wrote some of my own. I wrote angry screeds I didn't share with anyone. I wrote comments on like-minded friends posts to work through my feelings and lend support. I read more articles. Then I began responding to comments on my posts that came from Trump supporters. If their comment indicated a desire for dialogue, I responded. If someone was hostile, I asked them to step off because, well, that guy who told me if I didn't like Trump I was unAmerican and could get the hell out, well, fuck that guy. As I told him, every day of this presidential campaign I have been wearing my grandfather's World War II Navy dog tags. I wear them to remind myself that he went to war to fight against the kind of fascist hate that Donald Trump represents. This is why our internment of Japanese Americans during the war is so painful for our nation to confront. It exposes our hypocrisy. At the exact moment we were fighting hate and xenophobia abroad we practiced it at home because we allowed our fears to rule our national policies.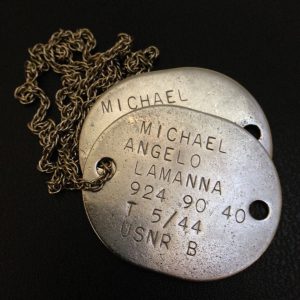 Wearing his name around my neck also reminds me of a story he told me when I was young. My grandfather was the child of Italian immigrants. They were poor, and he went to work in the coal mines of Western Pennsylvania at age 13 to help provide for the family and worked there all his life. When he was an adult worker his mine hired a new foreman, a man from England. During this foreman's first role call of his new workers, he called out my grandfather's name. When he answered the foreman looked him up and down and said "Lamanna, huh? I hope your papers are in order." To this my grandfather replied, "I was born here. I hope your papers are in order!" He was lucky he wasn't fired on the spot. But the foreman knew the solidarity between the miners as workers was greater than their allegiance to their individual ethnic backgrounds. The Appalachian miners who had long roots in that region of the country were not going to abandon the immigrant miners and side with the bigoted foreman. I am not arguing that there were no bigots or xenophobes in that group. There were likely many. I'm arguing there is power in solidarity. Power when we recognize that when one of us is threatened, all of us are threatened. Whites who voted for Trump gave into their racism (because we all have it), their xenophobia, their fears, and abandoned their fellow Americans.
So no, I won't get the hell out. Just because my family's whiteness and citizenship is no longer questioned—because I had the privilege of assimilating, a privilege not extended to non-white, non-Christian immigrants, a privilege never extended to African Americans whose roots in America go back as far as any white person's, a privilege Native Americans extended to white settlers who then betrayed that trust by systematically stripping indigenous communities of their rights and humanity—I will not use it as an escape route. I will not abandon those who are directly threatened by Trump's America. I will stand with them in any way they ask me to. It is time for those of us who want to be white allies to start listening to the oppressed in this country. They must be our leaders in this fight.
Here are some things I am doing right now to get started.
reading and really listening to the words of Black, Latinx, Muslim, and LGBTQ writers and thinkers. My list is small and haphazard, so I am taking suggestions. Right now I making a renewed effort to read daily the work on sites like Very Smart Brothas and The Root and to listen to NPR's Code Switch podcast and Democracy Now!, a news program that regular features diverse voices.
enrolling in the January session of Patti Digh's course Hard Conversations: An Introduction to Racism
reading these books among many others
applying the strategies in this resource from the Southern Poverty Law Center when I encounter bigotry in my daily life
Calling my representatives in Congress to voice my opposition to Trump's rhetoric and policy proposals. Here's how to find your representative and a seriously in-depth guide on what to do and say when you call.
supporting these pro-women, pro-immigrant, pro-earth, anti-bigotry organizations in any way I can
joining local organizing groups, such as Fort Collins for Progress, and taking local, state and national actions such as these so I can help make my community a welcoming and progressive place to live
teaching my children about the history of oppression and discrimination. We are starting with books like this and talking together in age appropriate ways.
continuing to write about what I am learning because in the words of Le Guin yet again,
Power can be resisted and changed by human beings; resistance and change often begin in art, and very often in our art—the art of words.