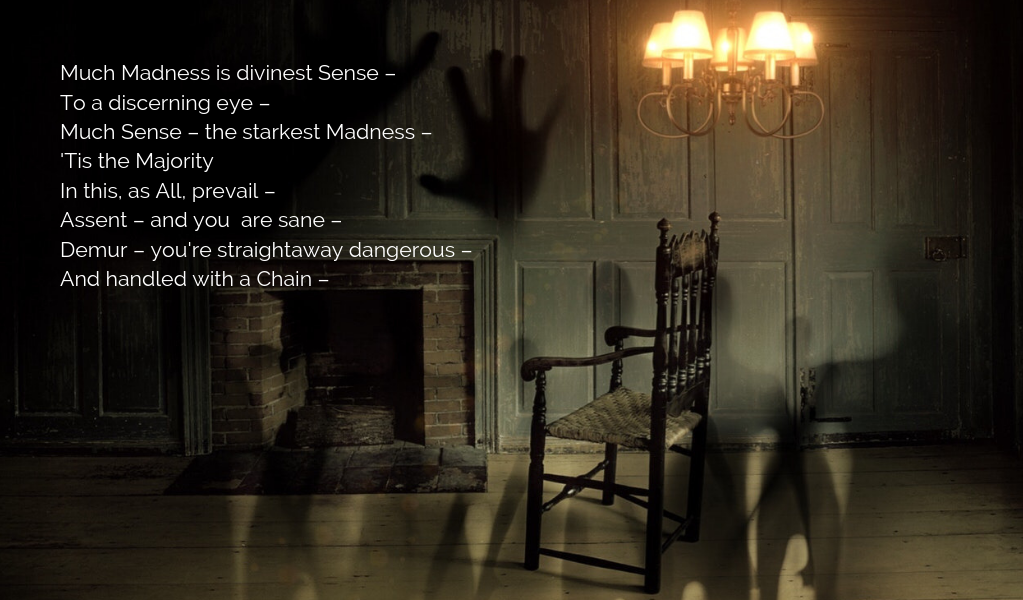 On Monday I went to see Wild Nights With Emily, a new film about the poet Emily Dickinson. I cannot stress enough my excitement about this film. My deep sense of connection to Dickinson began when I was 10 years old and my grandmother took me to see the play The Belle of Amherst, and my experiences with these two, very different Emilys, have served as bookends to my life thus far.
The play was a community theater production and the venue a barn that had been converted into a theater with impossibly high ceilings. When I entered that dimly-lit, cavernous space I felt like I had landed on Mars. As my grandmother and her friend looked for our seats I followed them, bug-eyed and slack-jawed, all the while clutching the doll I had gotten for Christmas. It was a one-woman show, and for two hours I watched Emily pace fitfully in the living room of her Amherst home, lamenting her lack of literary talent and calling to her sister offstage. The play relied on the narrative that Dickinson was a mentally ill recluse who was afraid to show her poems to anyone except Thomas Wentworth Higginson, the paternalistic editor of the Atlantic Monthly. The story goes that when he told her the poems were not ready for publication she was so devastated she locked them in a trunk where they stayed until she died.
We now know this version of Emily's life story is mostly bullshit, but 10-year old me was simply fascinated to see a woman allowed to tell her story before an audience, and no one cared how unhinged she seemed to be. In fact, her madness was what the audience enjoyed most. This appealed to me, a girl who her whole life had been chastised for being unreasonable, overly-motional, hysterical. I was too young to interrogate that the play was written by a man, William Luce, who specialized in writing plays about famous madwomen that feature them trapped in a room like little white lab mice. Ten-year old me knew that Emily was famous now and that her weird little poems were considered brilliant and that we were lucky she didn't change them to please dull Mr. Higginson.
Emily's madness seemed like an asset, and I wondered how I could make mine so. I'd spent that year battling my fourth grade teacher, a woman who'd just been hired and who spent her days reading bridal magazines at her desk while the students sat silently filling out worksheets. The three years prior I had had wonderful teachers, and I knew this wasn't how learning was supposed to work. So held a silent protest. I sat at my desk all day doing nothing and turned in blank worksheets at the end of the day. After several weeks of such insubordination, my teacher dropped the stack of incomplete sheets on my desk and demanded I do my work like everyone else. My "no" was not well-received, and when she threatened to call my parents I raked my arm across the desk in a swift motion, scattering the sheets across the classroom. The next day I found myself in the school psychologist's office—a trailer docked in the school parking lot. I was escorted there by the principal and then left alone for an hour with a strange man I had never seen before. I should have been terrified, but instead I was annoyed. Why couldn't anyone see that my teacher was the one in the wrong and not me? My protest had clearly not had the desired effect.
He said I was there to discuss my inappropriate behavior. He wanted to know why I was so angry. Why I was so defiant. Was there something wrong at home? No, I answered. I just hated my teacher. Why? She's a bad teacher and she's mean. Then I noticed the hand-held tape recorder on his desk. I asked if he was taping our conversation. He said no, and so I said he wouldn't mind if I took the cassette out of the recorder then. He said that wasn't necessary, but I replied that it was if he wanted me to answer any more questions. I folded my arms and sat silently. He took out the cassette tape and handed it to me. I never did give him the satisfaction of saying there was a problem at home (there wasn't), but I learned quickly that if I was to be labeled mad there was a power in being able to narrate my own madness. After a handful of sessions in that trailer, I was given permission to leave the classroom and go to the bathroom where I could crumple up and stomp on paper towels to release my anger. In exchange I agreed not to "disrupt" class with my outbursts. I thought it a silly bargain, but agreed because it got me out of class. Whenever I wanted to get away, I went to the bathroom and made a show of yelling while jumping up and down on a pile of paper towels for few minutes. Then I was able to stay in the bathroom for as long as I wanted and no one would bother me. Madness proved to be a useful tool.
My interest in mad literary women continued in college. For my final acting class project, I performed one act from Luce's play about Zelda Fitzgerald, The Last Flapper. Here the stage box was her psychiatrist's office in the asylum on the last day of her life. She died in a fire at the asylum, a fire she was rumored to have set. Like Emily, her writing was also stifled by a man—in this case her husband who stole her work. I loved the freedom of playing a madwoman. My Zelda was completely uninhibited. She spun around in the office chair, head back and feet in the air like a child. She laid, spread-eagle, on the desk while knocking things on the floor. She crawled on the ground. Rifled through the desk drawers. I took a method acting approach not to better the character, but to free myself. When people think you are a bit mad, they give you more space—sometimes quite literally. One day when I was coming from a rehearsal and running late to class, I burst through the door only to find that every seat in the tiny classroom was taken except for one across the way by the windows. The professor had already started lecturing, and rather than beg pardon and cross the room to the open seat, I threw myself onto the floor next to the door and began emptying my backpack until I had found my notebook and filled the whole aisle with my things. Everyone stared, bewildered by my odd behavior, but I felt wonderfully free like that 10-year old girl stomping paper towels in the bathroom instead of sitting politely filling out worksheets. The professor never said a word.
But here's the peril of madness. While it allows one to escape societal expectations—especially those put upon women—and makes for great theater, it ultimately boxes in the character and allows for only one version of the story. If Zelda was mad, it justified the rejection of her own novels and absolved her husband of guilt for taking her writing and using it in his own work. If Emily was a mad recluse, it explained why her poems were never published (she hid them) and freed the male literary establishment from their sexist criticism. And as Wild Nights With Emily shows, while her odd behavior served as a deft cover for her love affair with her sister-in-law, Susan, it also allowed for the literal erasure of Susan from her poems and letters. In the end, her "madness" turned from tool to weapon and it was used against her writing and her memory.
Now in my middle age, I no longer wish to escape cultural expectations. Instead, I am learning that I need not be bound by them in the first place. Whether madness is true, feigned, or a tangled web of both, when a woman uses it to gain power, it renders her story unintelligible by the many and manipulable by the few. Rather than hiding behind madness while attempting to slip out the side door, I'm working on taking center stage and telling my story plain in hope that more women will join me and the spotlight won't seem so glaring.