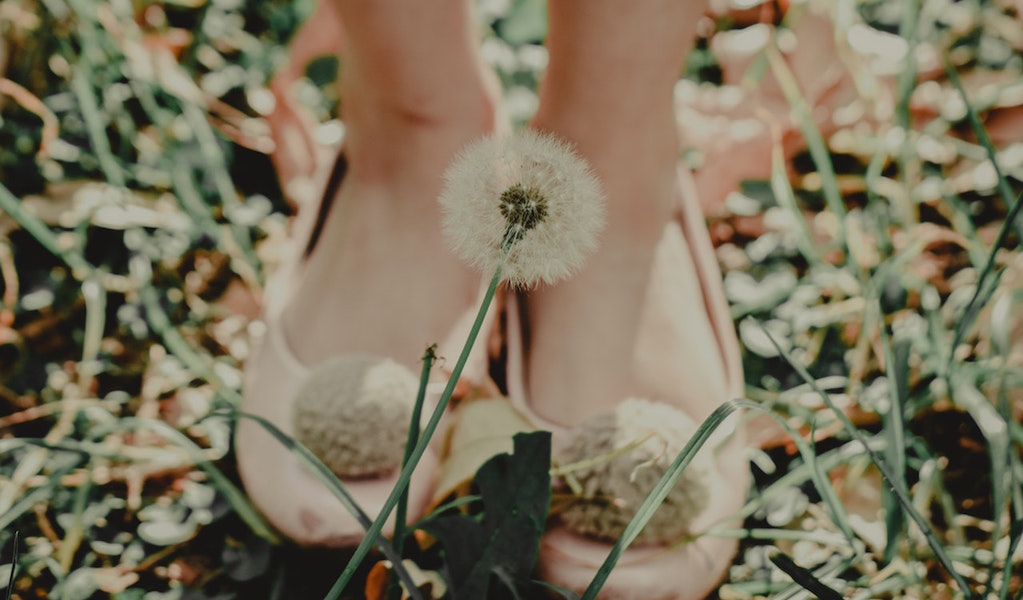 I've been in hiding. From my friends, my family, my clients, and my readers—so essentially from my life. I tried to do too much (too much for me) and it broke me. This has been a pattern my whole life. I look around and see how productive other people seem to be and I convince myself I should be doing at least as much, probably more. But I'm also a perfectionist, and that's led me down a path to true, diagnosable disfunction. In the beginning I just looked like your standard, type-A overachiever—dean's list, grad school, tenure track academic job, husband, kids, house. I made sure my life checked all the right boxes, but behind the scenes I was a wreck. Lots of crying, panic attacks, feelings of worthlessness. When your standards for success are god-like perfection on one side of the bar and total failure on the other, you always end up a failure. In my mind, I could never be perfect so maybe it was best for me to just give up. 
Recently, I started working with a therapist who specializes in anxiety and OCD. I have known for years that anxiety was an issue for me, but I had begun to suspect that my responses to that anxiety had escalated into OCD territory. When I went into my first session part of me was convinced I was overreacting, that I didn't have OCD, that I just needed to light some candles and spend more time meditating. I mean, it's not like I spent all day washing my hands or something, and that's what all the people with OCD on TV do, so clearly I was fine. After one session it was clear that I was most definitely not fine. My brain turns everything—cooking dinner, weeding the garden, organizing a bookshelf—into a project with a complex, multi-step set of procedures that must be followed exactly or its not "right," and if its not right something terrible will happen. What terrible thing? I don't know, but I'm sure as fuck not going to risk finding out, and this is why a task that should take thirty minutes takes me three hours.
I know I'm lucky that I'm what our culture calls "high-functioning." I can leave the house, take care of my kids, run the scout troops I volunteered for, but the effort I have to spend to make everyday life happen means I'm overwhelmed and exhausted all the time. I've been told it's painful to watch me fold laundry because of the way I smooth the wrinkles out of every spot and make sure every towel or shirt is the same size and shape so they fit evenly in the closet. Nothing is simple or enjoyable. Everything poses a threat and must be neutralized through precise order and control.
I read an article in the NYT about a week ago that said procrastination is not about laziness or lack of motivation, but the inability to regulate negative emotions. In short, we procrastinate whenever the task produces negative, anxiety-producing feelings. In order to ease the anxiety, we do something else that makes us feel confident, productive, calm, etc. Worried your boss will criticize the report you have to write? Clean the kitchen instead. OCD is that same behavior, but all the time with almost everything, and the task being avoided is life and all its uncertainty. I can't really be in control of everything and insure nothing ever goes wrong, so my brain tricks me into thinking that if I can just fold all the towels according to my absurd set of rules, I am actually in control of the universe. Problem is, that anxiety relief is always temporary. The anxiety returns until you write the damn report and face your boss's criticism. However, when it's the uncertainty of all of life that causes the anxiety, you are stuck in an endless procrastination loop. In my case, I can never really control everything—people will get sick, accidents will happen—and the fear that produces is just too great, so I am stuck folding the towels forever in order to calm myself.
I am telling you all this not because I am looking for sympathy or forgiveness for not following through on my responsibilities, but because it is a pattern so many of us repeat over and over even if it doesn't rise to the level of a mental illness. And we need to talk about it. In the beginning, I thought if I could get straight As, earn Ph.D., land the right job, everyone would love me and I'd be happy. When that didn't work I doubled-down on my perfectionism and applied it to every area of my life. Did you know you can take a shower incorrectly by washing your body parts in the wrong order? Not really, but I'm working on explaining that to my brain.
I'm barely working and haven't been writing at all, but I'm trying to change both of those things. Even though I'm flat broke, I'm prioritizing the writing. I need to get some of this out of my head before I can take on more paid work. Maybe that's backwards according to our culture's capitalist standards, but that's the way it is for me. Getting better requires me to develop new criteria for measuring success. My brain thinks the list of criteria for everything is 100 items long. I have to reduce that list and let my brain scream an cry until it learns that the world won't end if I throw the towels into the closet half folded. I have to figure out that life in all its messiness and uncertainty is worth living.
It's ridiculous that I can't do the simplest things without tricking myself, but maybe that's how it always is. We have to trick ourselves into living. We get stuck at the base of Maslow's pyramid desperate for sleep, food, safety, and love. We spend our days working for food and shelter. Then at night we go home and clean bathrooms, fold laundry, and make dinner, all to collapse into bed, and if we're lucky there's someone there to curl up with as we lay our exhausted body down for a few short hours. But that's not living. That's existing. And trying to do all those things perfectly sure as hell won't turn our endless quest for security into a life where art, creativity, and beauty are possible.