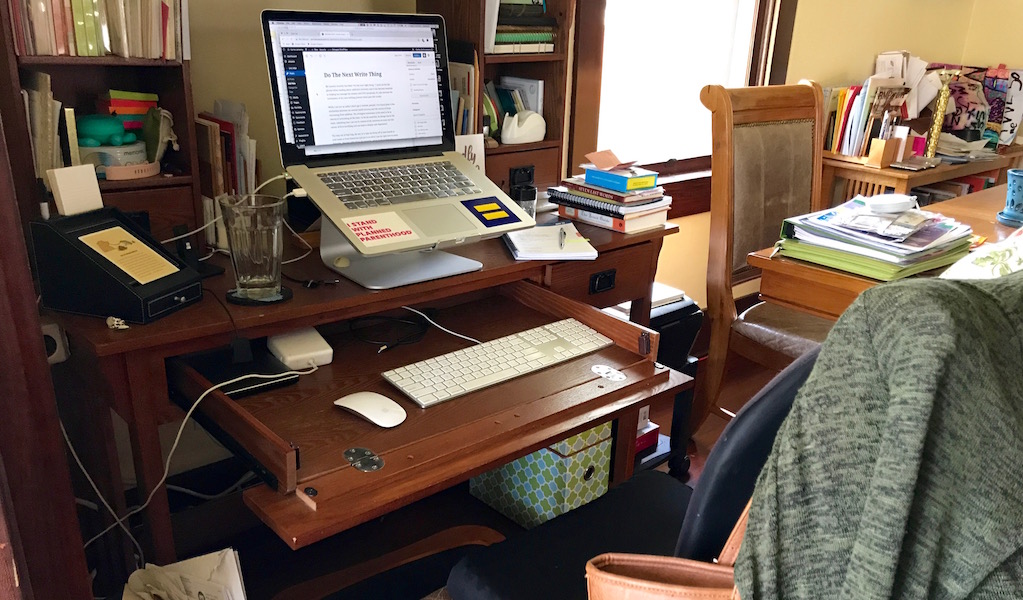 My mantra recently has been "Do the next right thing." I came across the phrase when reading about addiction recovery, and it has become essential in helping my manage my anxiety and OCD symptoms. It's also become the centerpiece of my new writing practice these past few weeks.
While I am not an addict (don't get it twisted, people), I've found quite a few similarities between my mental health journey and the stories of those recovering from addition. The strongest connection is the need to be in control of everything all the time—to be the smartest, in-charge one in the room. Admitting that I am not in control of the universe (or even my tiny corner of it) is terrifying and can lead to despair and depression.
The way out of that trap, for me, is to take my focus off of next month or next week or even tomorrow and put it on what I can do right now to move forward—the next right thing. For example, when I look up from my computer and look around the room I see the house is a wreck. My son's pajamas are strewn across the couch (because the living room is where you get dressed, obviously), the side table is piled high with junk mail and school handouts, laundry that needs folding is everywhere. I could go on about the toys all over the floor and the boxes of Girl Scout supplies I'm always tripping over, but I won't do that because that wouldn't be the next right thing. My instinct is to curse my life, lament that I am 45 and still don't have my shit together, and to then spend the next two hours putting together an elaborate month-long plan for how I'm going to clean and declutter the whole house. But that wouldn't be the next right thing either. What I should do (and I will do as soon as I finish this post) is spend 15 minutes clearing the dirty breakfast dishes, picking up the toys, and throwing out the junk mail. That would be the next right thing. It's not the sexy thing or the thing that will make me feel (temporarily) powerful and in control, but it is the right thing that will lead to the next right thing because once I have some clean surfaces, I can fold some of that damn laundry. If I keep my focus on the next right thing, in the hour before the kids get home from school I will actually accomplish things that make the house cleaner.
Writing is like this too. What I want are week-long writing retreats in the woods and a well-lit cozy home office where I can start my day with meditation and hot lemon water before I settle in for my uninterrupted morning writing session. That's a lie. Hot lemon water is stupid (fight me). I want coffee and lots of it. Everything else I want, but it's my fantasy, not my reality. What I actually have is my messy house and a tiny discount store desk shoved into the corner of the dining room. I could bitch and moan about how I can't write like this (not that I would ever do such a narcissistic thing) or I could do the next write thing and sit down for an hour and finish this blog post to you. Which I'm doing. (Where's my cookie?)
Look. Here's the thing. Art is not something that happens separate from the rest of our lives. It's just like clearing the table or scrubbing the toilet. It's something we have to make a regular practice. Something we do in the midst of the chaos. These past three weeks my next write thing has been to publish a post a week. So far, each attempt has begun on Monday, been interrupted at least a dozen times, and then finished on Friday. But it's getting done. If I'm lucky, the published post is beautiful and sexy, but the process of writing it certainly is not. Most of the time it's pretty damn ugly. As I sit here in the dusty dining room corner, my face is unwashed, my hair is in a ponytail, and I'm still in my pajamas.
But the work is getting done.
And I want it to keep getting done, so I'm raising the stakes and inviting you to join me. Starting next Friday, May 10 at 10:00 am Mountain Time I'll be live on my Facebook page to write in my tiny corner for 30 minutes. And I'll be there every Friday after that. If you receive my Friday newsletter, you can use the time to respond to the weekly writing prompt or you can use the time to work on whatever writing you have been putting off. It doesn't matter. Just do the next write thing for 30 minutes. That's how the magic happens—unkempt, in the corner, 30- minutes at a time.